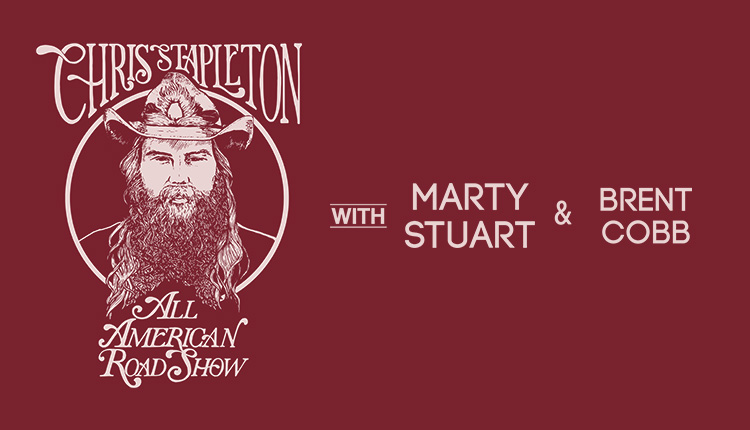 Chris Stapleton
Chris Stapleton
Chris Stapleton's All-American Road Show is coming to Orange County and will feature Marty Stuart and Brent Cobb as special guests.
Stapleton's most recent album, Volume 2, debuted at #1 on the Billboard Country Albums chart and #2 on the Billboard 200 chart. Its release follows the May 5, 2017 release of From A Room: Volume 1, which was the #1 best-selling country album of 2017. Stapleton's 2015 double-platinum solo debut, Traveller, was the #2 best-selling country album of 2017.
Both Volume 1 and Volume 2 take their name from Nashville's historic RCA Studio A (the capital "A" in "From A Room") where they were recorded with Grammy Award-winning producer Dave Cobb. Along with Stapleton on vocals and guitar and Cobb on acoustic guitar, the album features Morgane Stapleton on harmony vocals as well as longtime band-members J.T. Cure on bass and Derek Mixon on drums.
Please note this show has a GA floor. Honda Center's general admission policy* is as follows:

General admission ticket holders are not required to arrive early to obtain a numbered wristband. This policy is an option provided as courtesy to those who prefer to arrive early and wait for priority entry.

General Admission ticket holders are able to arrive at Honda Center to obtain sequentially numbered wristbands beginning at 1:00pm the day of show in Lot 2 (please see red star on map). Wristbands will be distributed until 3:00pm sharp.

Each guest must be in possession of a general admission ticket to obtain a wristband - only one wristband per guest will be distributed. Guests cannot reserve/pick-up wristbands for other guests. GA numbered wristbands are non-transferable. Loss, removal or tampering of the GA wristband will result in loss of place in the GA line.

A starting number will be randomly chosen at 3:15pm; this will be announced and displayed. No wristbands will be distributed after 3:00pm - no exceptions.

The guest with the wristband that matches the starting number drawn will be the first in line (i.e. if #'s 1-100 were issued and number 10 was drawn, the line would start with 10, then 11, 12, 13 through 100 then following with 1-9). When the starting number is announced, Honda Center staff will begin forming the entry line at the building's north entrance.
 
Once the numbered wristband line is formed, patrons are to remain in line.   

If a patron arrives after the wristbands have been distributed, those patrons will line-up in a secondary line that is first-come, first served at the sidewalk by the north entrance of Honda Center (please see blue star on map). This secondary line will not receive a numbered wristband and will enter after the numbered wristbanded group.

Regardless of arrival time, guests who have a GA ticket must enter through the building's north doors to obtain a floor access wristband.

The purpose of the random number distribution is to ensure that all fans have the same chance of being first in line, eliminating the need to camp out. This policy also helps to ensure customer safety and provide for an effective means of crowd control. We ask that all patrons be respectful to one another in line.

Please note that VIP ticket holders may receive priority entry at the tour's discretion.

*Honda Center and tour personnel reserve the right to amend or make changes to these policies at any time

You Might Also Like