Please note: Concession stand availability and selection varies per event.


Plaza Level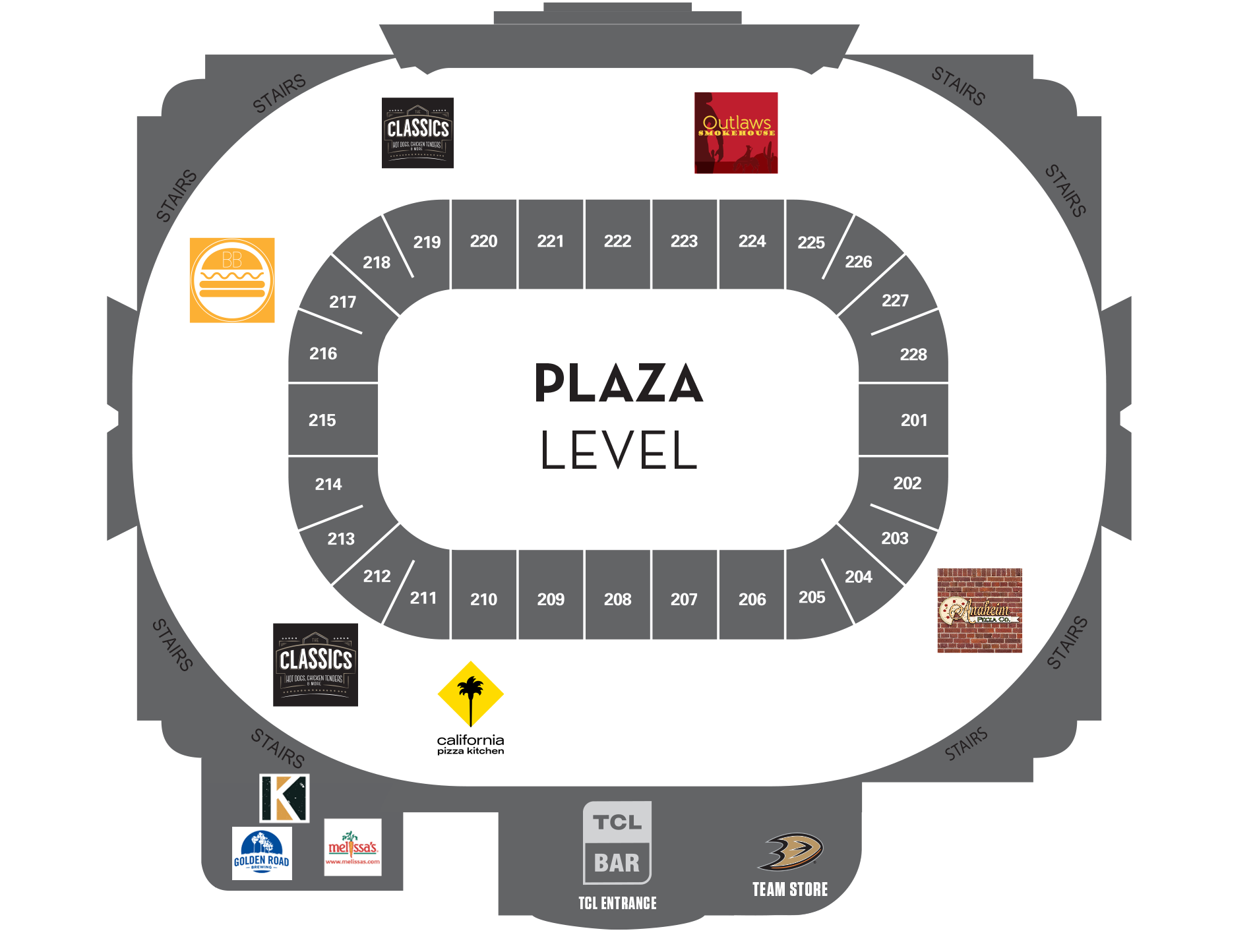 TCL Entrance
THE KITCHEN / GO MANGO BAR / MELISSA'S 
Full Bar, Chef-inspired Fan Favorites such as: Street Tacos and Philly Cheesesteak Sandwich; Grab & Go Selections including Sandwiches, Pizzas, Salads, Fruit Cups, Melissa's products that Include Assorted Beverages; Melissa's Selections Including Freshly Prepared Grab & Go Selections: Hummus & Veggies, Gluten Free Snacks, Trail Mix, Gluten Free Beer
-  -  -  -  -
ANAHEIM PIZZA CO.  203
Pepperoni, Chicken & Bacon with White Sauce, Cheese and Meat Lovers Slices
CPK 210
Pizzas, Salads, Spinach Dip
THE CLASSICS 212, 219
Hot Dogs, Chicken Tenders, Waffle Fries, Cheese Nachos                
BURGER BISTRO 217
Specialty Burgers, Meatless Burger, Grilled Chicken Sandwich, Waffle Fries
OUTLAWS SMOKEHOUSE 224
Smoked Brisket, Pulled Pork, and Pulled Chicken Sandwiches, Waffle Fries
Club Level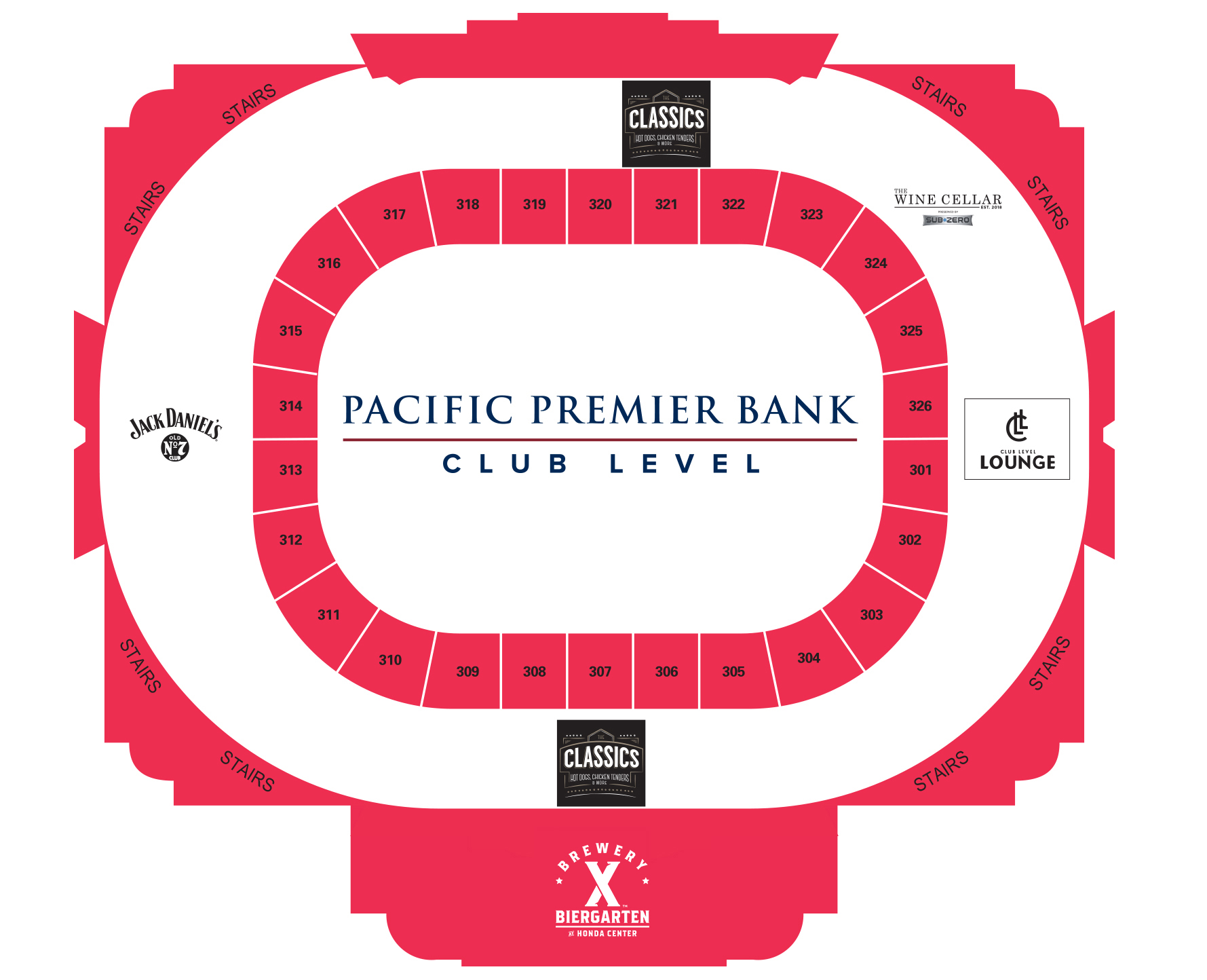 CLUB LEVEL LOUNGE 325 -301
Premium Grab & Go Selections, Coffee Bar, Specialty Desserts, High End Scotch and Whiskey Spirits, and Craft Cocktails
THE CLASSICS 307
Hot Dogs, Chicken Tenders, Waffle Fries, and Cheese Nachos
THE CLASSICS 321
Hot Dogs, Pretzels, and Cheese Nachos
JACK DANIEL'S OLD NO. 7 CLUB
Rotating Chef Tables featuring Freshly Prepared Salads, Action-Station Entrées, Carved
Items, and Specialty Desserts [Bar Menu offered exclusively in Bar Seating Area]
THE WINE CELLAR PRESERVED BY SUB-ZERO  324
Honda Center's Wine Cellar is the first dedicated wine destination in an entertainment venue, and offers over 270 different bottles of wines, from all over the world. Our dedicated Sommeliers are available to answer questions and assist guests in finding their preferred wine. Purchased bottles of wine can be poured into a decanter that comes with stackable wine glasses, for ease of traveling throughout arena.
BREWERY X BIERGARTEN*
Chef Inspired Entrées, Chef-manned Sushi Bar, Wood Stone Oven Pizzas, House made Desserts, Hand-Crafted Cocktails, Craft Beer [Lounge Menu available in outdoor lounge areas]  Open to Orange Alliance Members at Ducks games with annual Brewery X Member ship or additional purchase (Individual game passes are able to be purchased at the box office; based on availability).
Open to all ticketed guests for other events. Click here for hours of operation.
Terrace Level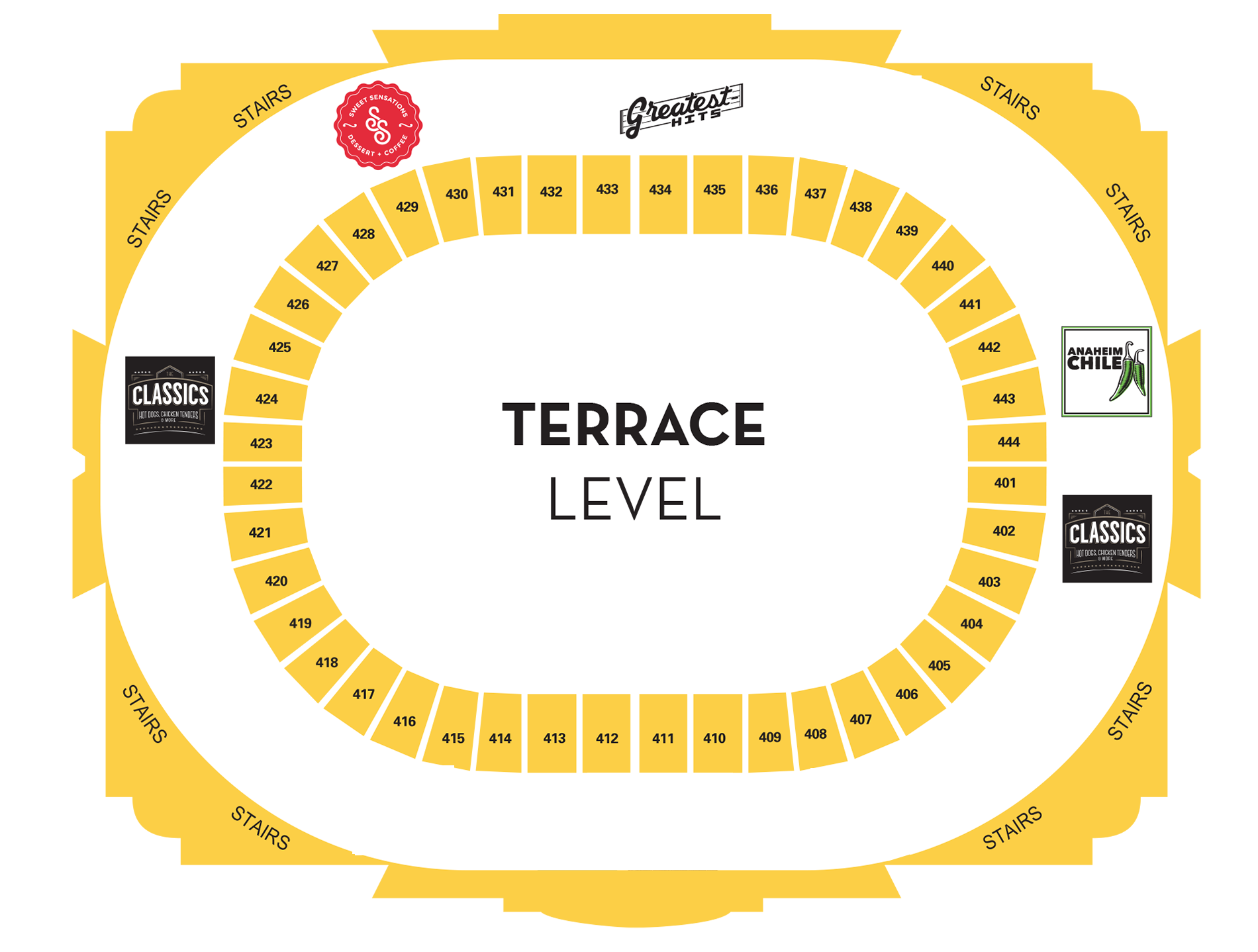 THE CLASSICS  402, 424
Hot Dogs, Chicken Tenders, Waffle Fries, and Cheese Nachos
EXPRESS EATS 411 
Hot Dogs, Pizzas, Pretzels, Popcorn, Cheese Nachos, Candy, Assorted Beverages, and Snacks.
SWEET SENSATION 430
Coffee, Assorted Desserts, and Hot Chocolate
GREATEST HITS  434
The Best of Your Favorite Concession Fares Found in One Location: Gourmet Burgers, Chicken Tenders, Cheese Nachos, Hot Dogs, Waffle Fries
ANAHEIM CHILE FEATURING WHOLLY GUACAMOLE 443
Carne Asada, Grilled Chicken, Carnitas, and Veggie Bowls
Puck Drop Patio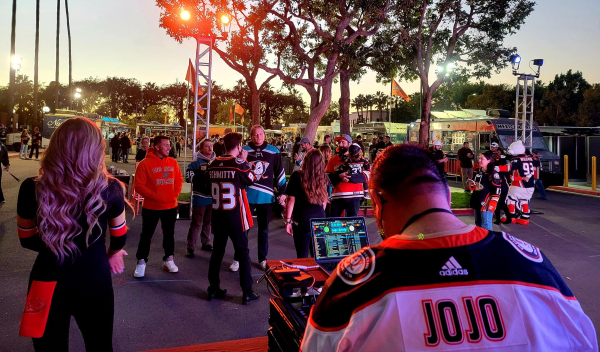 The Puck Drop Patio is available at Ducks games (pre-game or in-game) for live music, prizes, unique food truck fare, the latest Ducks merchandise, an official #FlyTogether photo booth and a large selection of beverages including beer, wine, and cocktails! There is a wide variety of options to choose from, including bratwursts, protein bowls, paella, tacos, burritos, burgers, and pizza.
The Puck Drop Patio is located outside of the arena's North Entrance and is open 90 minutes before puck drop until the end of the second intermission, as part of Honda Center's effort to provide the best fan experience.
(Please note that food and beverage items purchased off-site of Honda Center are not permitted.)