As a result of the COVID-19 outbreak, the business offices of the Anaheim Ducks and Honda Center will be temporarily closed effective Mar. 16. We will continue to monitor and evaluate the situation on a week-to-week basis and will re-open the offices when appropriate. Thank you for your understanding. The Ducks, Honda Center, Gulls and The Rinks staff wish good health to all as we navigate this health crisis. 
For any questions, please email contactus@hondacenter.com

The Honda Center box office is located on the East side of the building. Ticket windows are open Monday-Friday, 10 a.m. to 5 p.m. and Saturday 10 a.m. to 4 p.m. Sunday and holiday hours vary. Please call the box office at (714) 704-2500 for ticket information.
Please note: the box office does not sell tickets by phone. The box office does not begin selling concert or other special event tickets until the first business day after they go on sale to the public through Ticketmaster.
Tickets to upcoming events can be purchased at the box office using either cash, or credit card (Visa, MasterCard, Discover and American Express only). When purchasing tickets with your credit card, you must show picture identification; you may not use someone else's credit card.
In addition to the Honda Center box office, tickets to upcoming events can be purchased online at ticketmaster.com. Hearing impaired guests may purchase tickets using the Ticketmaster TDD phone line at 800-943-4327.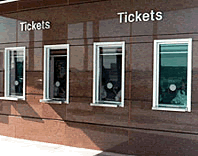 Will Call
Will Call is located at the box office and opens one and a half hours prior to the event start time. When picking up tickets from Will Call, you must have photo identification and the credit card with which you purchased your tickets.
Box Office