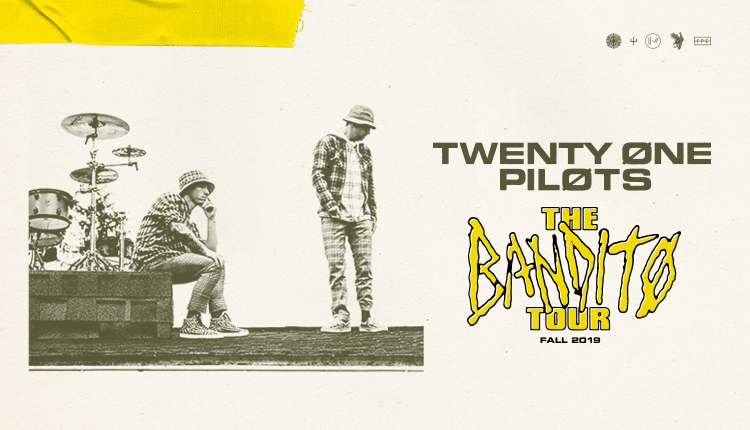 TWENTY ØNE PILØTS
TWENTY ØNE PILØTS
TWENTY ØNE PILØTS is bringing their "Banditø Tour" to Anaheim due to overwhelming demand.

All delivery of tickets will be mobile only, there are no exceptions and no printed tickets are available.

The delivery of the mobile tickets will be delayed and will not be in your account to view or transfer until 72hrs prior to the event.  

Tickets will not be available for purchase at the Honda Center Box Office at this time.
TwentyOne Pilots GA Policy
November 2, 2019

General Admission Policy for Twenty One Pilots is Subject To Change
This is the only process approved for GA entry. No additional arrangements will be honored at this time.
Numbered wristbands will be begin to be distributed at 8am on show day, November 2. This represents the order guests will be lined up to enter Honda Center.

Fans will only receive numbered wristbands from a credentialed Honda Center employee at the North Entrance of Honda Center. No other wristbands will be honored.

One numbered wristband per person per GA valid ticket- no exceptions. Fans must have their GA ticket present with them at wristband distribution-please plan accordingly.

Once guests receive their numbered wristband, they may remain in line or leave the area, but they must return to their sequential place in line at the North Entrance no later than 4:00pm. This time will be strictly enforced, guests are asked to plan accordingly.
If a numbered wristbanded guest arrives after 4:00pm, their numbered wristband is void and will be removed. They will take their place at the end of the GA line.

Sequential wristbands will be distributed until 3:00pm. This time will be strictly enforced. Any guests arriving after 3:00pm will be placed at the end of the GA line.

The numbered wristband must remain on the guest's wrist while in line. Loss or removal of the wristband prior to 3:00pm will require the guest to obtain a new numbered wristband and take their new sequential place in line. Any guest found with a tampered wristband will have their wristband confiscated and will lose their place in line. Numbered wristband does not guarantee entry or a reserved space on the arena floor.

Please be respectful of other guests in line- no running, pushing or line jumping; no alcohol, drugs, glass containers, tents, sleeping bags; no selling of tickets, wristbands, concessions, or merchandise; no smoking; no animals (except service animals). Once numbered wristband is received items such as chairs, coolers, blankets, tables, and other large items need to be removed from Honda Center property or placed in vehicle.
You Might Also Like