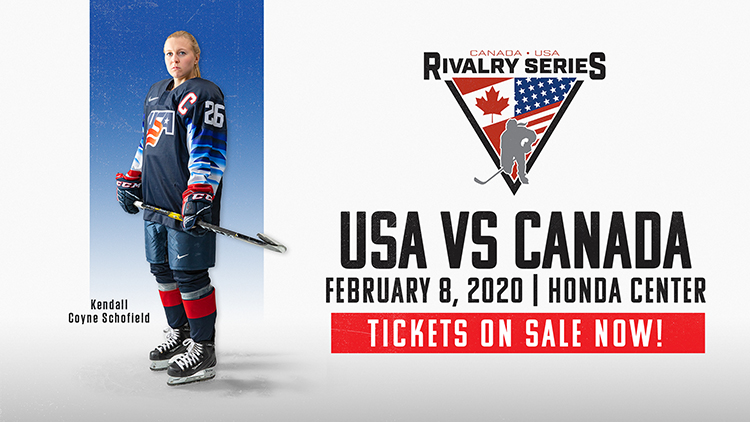 USA vs. Canada
USA vs. Canada
The greatest rivalry on ice is coming to Orange County! Honda Center is proud to host the 2020 Women's Hockey Rivalry Series game between the U.S. and Canada Women's National Hockey Teams on February 8, 2020 at 7:00 p.m.
SCHEDULE OF EVENTS
Saturday, February 8 – Honda Center (Anaheim)

3:30-6:30pm: FREE Hockey Spot
Test your shooting, passing, and stickhandling skills! Explore an interactive history of women's hockey display
4:30-6:30pm: VIP Women in Sport Panel
7:00pm: USA vs CAN
Post-Game: FREE Autographs on Concourse
9:30-11:30pm: VIP Reception with USA players and alumni
Sunday, February 9 - Great Park Ice & FivePoint Arena (Irvine)
Join The Rinks, Great Park Ice, and Team USA for Try Hockey for Free events: Register Here
9:00-9:50am: Try Sled Hockey
WAITLISTED - 10:00-10:50am: Girls Try Hockey for Free
WAITLISTED - 11:00-11:50am: Women's Try Hockey for Free
12:00-12:50pm: Blind Hockey
9:00am – 12:30pm: Youth Hockey Clinics with Team USA



Click here for group ticket discounts!
You Might Also Like