Arena Info
Anaheim Arena Management Acquires Right to Sell Naming Rights of Anaheim Regional Transportation Intermodal Center (ARTIC)
Anaheim Arena Management Acquires Right to Sell Naming Rights of Anaheim Regional Transportation Intermodal Center (ARTIC)
Jul. 12, 2017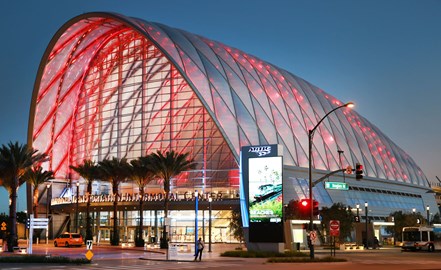 Last night the Anaheim City Council approved the rights for Anaheim Arena Management (AAM) to sell the naming rights sponsorship of Anaheim Regional Transportation Intermodal Center (ARTIC). The Anaheim Ducks and Anaheim Arena Management Corporate Partnership team will take on the task of determining specific assets, identifying value and working with potential naming rights partners to secure an agreement. The city of Anaheim will retain approval rights and a majority of the associated revenue. ARTIC will be the first regional transportation center with a naming partner.

"We are excited to take on the challenge of selling the naming rights for ARTIC," said Bill Pedigo, Chief Commercial Officer for Anaheim Arena Management and the Anaheim Ducks. "The proximity to Honda Center and Angel Stadium along with the visibility from the 57 Freeway make this a very attractive marketing asset in a growing market.  This will be a high priority for our team as we look to add additional financial resources to our long-term partners, the city of Anaheim."

Anaheim Ducks and Arena Management staff have successfully negotiated other naming rights deals including the rights to Honda Center, ShockTop Terrace, Jack Daniels Club and other related venues, including FivePoint Arena at the new Great Park Ice & Sports Complex in Irvine. Interested partners can expect a full 360-degree embodiment of the assets of the property to use as a traffic anchor for a mixed-use year-round facility. Please contact Anaheim Arena Management Corporate Sponsorship Department for further details.

The Anaheim Regional Transportation Intermodal Center, better known as ARTIC, provides rail, bus, taxi and other services for daily commuters, visitors and leisure travelers. It serves as a train station for Amtrak intercity rail and Metrolink commuter rail, as well as a bus station used by the Orange County Transportation Authority (OCTA), Anaheim Resort Transportation (ART), Greyhound, Megabus, and Tres Estrellas de Oro.
More press releases
Jul. 10, 2017

Jun. 13, 2017

Jun. 8, 2017

Jun. 8, 2017

May. 31, 2017