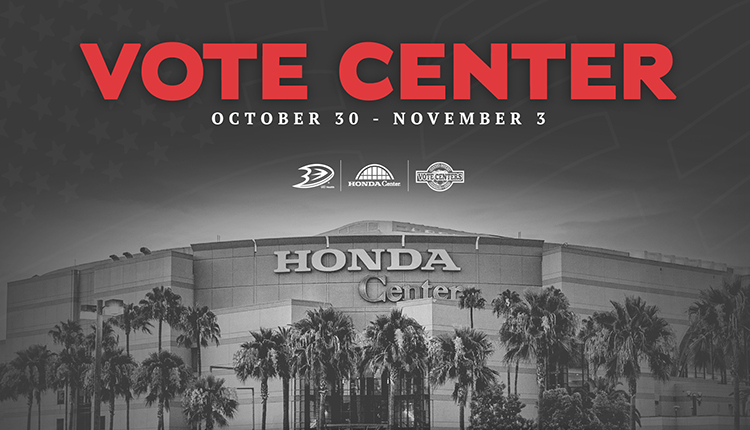 Vote Center
Vote Center
For the first time in its history, Honda Center will serve as a polling site in the upcoming Presidential General Election. The Orange County Registrar of Voters Department approved the arena as a Vote Center in partnership with the Anaheim Ducks and Honda Center organizations.
Starting on Friday, October 30, and through Election Day, Tuesday, November 3, Honda Center will serve as a one-stop voting location for all voters in Orange County.
Hours of Operation
October 30 – November 2 (8:00 a.m. – 8:00 p.m.)
November 3 (7:00 a.m. – 8 p.m.)
At Honda Center, voters will have several convenient options for casting their ballot or returning their vote-by-mail ballot. Options will include: 
Voting in person
Receiving a replacement ballot
Registering to vote
Updating their registration
Drive-thru voting
Drive-thru vote-by-mail drop off
 
For more information regarding casting a ballot, to check your registration, or to register to vote, please visit ocvote.com.
In partnership with UCI Health, Honda Center has instituted the following COVID-19 guidelines:
Face masks are encouraged

Maintain a 6 foot distance from others

Use hand sanitizer after touching surfaces

Do not enter Honda Center if are feeling sick or are experiencing COVID-19 symptoms
Ducks fans casting their ballot at Honda Center will have the opportunity to choose a Ducks branded "I Voted" sticker and commemorate the day with multiple photo opportunities. The Ducks' mascot, Wild Wing, will make special appearances throughout Election Day.
To support Second Harvest Food Bank of Orange County and their pantry network, the Ducks and Honda Center will be holding a food collection event for community members casting their votes at the Honda Center Vote Center. Voters can donate nonperishable food items* (no glass containers will be accepted) at food collection bins located outside the TCL Entrance at the front of the arena and a to-be-determined location for drive-thru voting. Voters can also make a monetary donation toward a virtual food drive that will benefit Second Harvest Food Bank of Orange County.
Second Harvest Food Bank of Orange County is leading the fight to end hunger in our community with a network of 312 partners that distribute food throughout the county. 
 
*Second Harvest Food Bank of Orange County Most Needed - Nonperishable Food Items: Peanut or Other Nut Butters • Canned Vegetables (Low Sodium) • Rice (Brown Preferred) • Canned Fruit (Packed in Water or Juice) or Natural Applesauce • Dried or Canned Beans (Low Sodium) • Whole Grain Cereal (Low Sugar) • Canned or Boxed Soup (Low Sodium) • Whole Grain Pasta • Canned Meats & Fish (in Water) • Healthy Snacks such as Low Sugar Granola Bars, Raw Nuts or Dried Fruit
NO GLASS CONTAINERS PLEASE
Main entrance doors to the arena typically open 60-90 minutes prior to event start time.
You Might Also Like