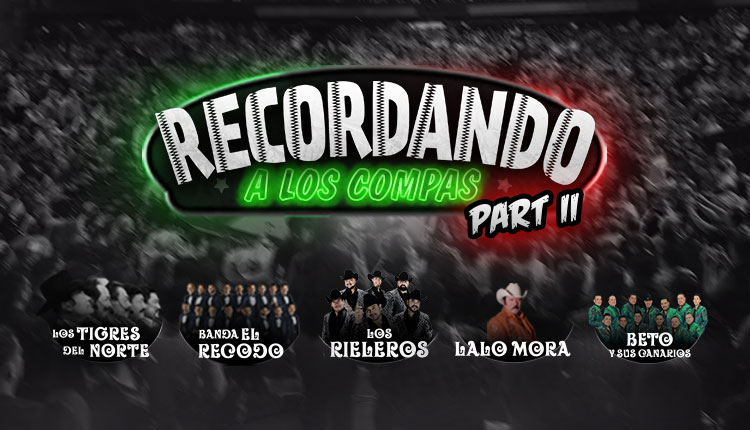 Recordando a los Compas part II
Recordando a los Compas part II
RECORDANDO A LOS COMPAS PART II returns to Southern California Saturday, April 6. Led by Los Tigres del Norte and Banda el Recodo, with Los Rieleros and from 'Tierra Caliente' Beto y Sus Canarios.
Los Tigres Del Norte, began their career in Rosa Morada, Mocorito, Sinaloa, Mexico, and moved to San Jose, California in the late 1960s. They are known for their ballads and sociopolitical corridos. The seven-time Grammy winners are recognized for turning norteño into an internationally known genre by modernizing the northern ensemble form that includes accordion, bass sixth, saxophone, bass and drums and infusing bolero, cumbia, rock rhythms and waltzes.

Banda el Recodo by Don Cruz Lizárraga, was formed in 1938 by Don Cruz Lizárraga and took the sound of wind music incorporating the musical style of the northern side of the border, which brought the so-called American "big bands". The combination was a success, since it renewed the sound of traditional wind music. It was as well as the Sinaloan groups began to reinterpret their own and others' songs, playing "Patrulla Americana" or "Sansón y Dalila", cumbias or waltzes alike. Winners of several Grammys and multiple awards, the band is celebrating 80 years of trajectory with their new album "80 Años de Música Entre Amigos".

Los Rieleros, since the 80's have been one of the favorite northern groups of the public. Originative from Ojinaga, Chihuahua México, in 1982, the #1 northern musical machine, Los Rieleros del Norte were born. Nominated to the Grammy, deserving of a star in the stroll of the stars in Las Vegas and winners of an infinity of awards and recognitions, Rieleros are pioneers of the northern music style Chihuahua.

Beto y Sus Canarios, are a great group that began in 1987, originally from Huetamo, Michoacán, Mexico, better known as "tierra caliente", Gabino García, musical director, and Edilberto Portillo, director of the group, have supported the group since its initiation, helping this group grow more in all aspects.
You Might Also Like