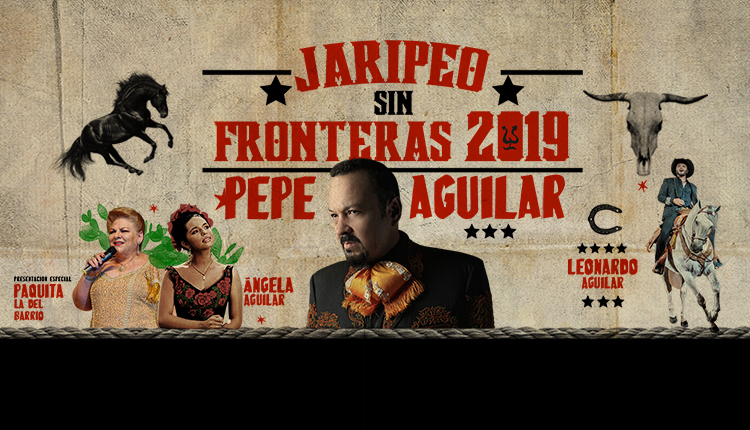 Pepe Aguilar - Jaripeo Sin Fronteras 2019
Pepe Aguilar - Jaripeo Sin Fronteras 2019
Jaripeo Sin Fronteras is a show more than 3 hours long that unites, American bullfighters, Mexican and US champion riders, equestrian acrobats, beautiful Spanish trained horses, 3-time Mexican roping US champion, more than 30 musicians on stage as well as the latest technology, special effects, video and pyrotechnics, and of course musical performances by Pepe, his daughter Angela, his son Leonardo both nominated for both Grammys and Latin Grammys,  as well as Antonio Aguilar "Hijo". JSF is a multigenerational family show, aimed at an audience of all ages, there is something for members of the entire family, from the youngest to the grandparents.

During his equestrian performance, Pepe and family will ride several of their beautiful Andalusian horses, Dorado, Pharaoh, Caporal, Gallito, Parral. Trojan, Tornado, Boots, April and Zapata are just some of the wonderful animals that will be performing at JSF2019

Pepe Aguilar is one of the most important performers/producers/songwriters in music, selling more than 14 million albums, earning 15 #1 records and numerous awards including four Grammys and five Latin Grammys and a Star on the Hollywood Walk of Fame next to his father.  He has collaborated with artists such as will.i.am and Julieta Venegas.  Aguilar picked this moment to reclaim the traditions of jaripeo for himself, his family and his fans.  
You Might Also Like