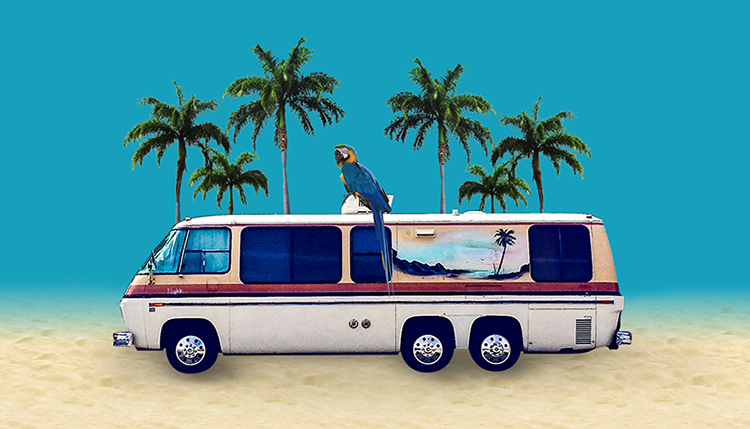 Jimmy Buffett and The Coral Reefer Band Margaritaville Tailgating
Jimmy Buffett and The Coral Reefer Band Margaritaville Tailgating
Honda Center has exclusively designated Lot 5 for Margaritaville Tailgating, where Jimmy Buffett fans are invited to come together for their pre-show festivities in a safe, fun atmosphere.
Tailgating passes are SOLD OUT.
Parking passes purchased in advance will require the purchaser's photo ID upon arrival. Margaritaville Tailgating parking passes are nontransferable. Parking passes are valid for one vehicle per parking pass.

RV Tailgating Parking Pass- $165*. Each pass allows for 4 standard parking spaces. (RV, Motorhome, and all oversized vehicles)

Standard Vehicle Tailgating Parking Pass- $85*. Each pass allows for 2 standard parking spaces. (Sedan, pick-up truck, SUV, etc.)

*Plus applicable Ticketmaster order fees
The placement of your vehicle within Margaritaville Tailgating Lot is determined on a first-come, first-served basis. Saving spaces will not be permitted. No vehicle re-entry is permitted.
Honda Center's Margaritaville Tailgating Lot opens at 10:00 AM on Saturday, October 12 exclusively in Lot 5 at Honda Center. No tailgating is permitted in any other lots at Honda Center and will be strictly enforced.
No towing or attachments of any kind are permitted. This includes boats, barbeques, trailers, vehicles, etc.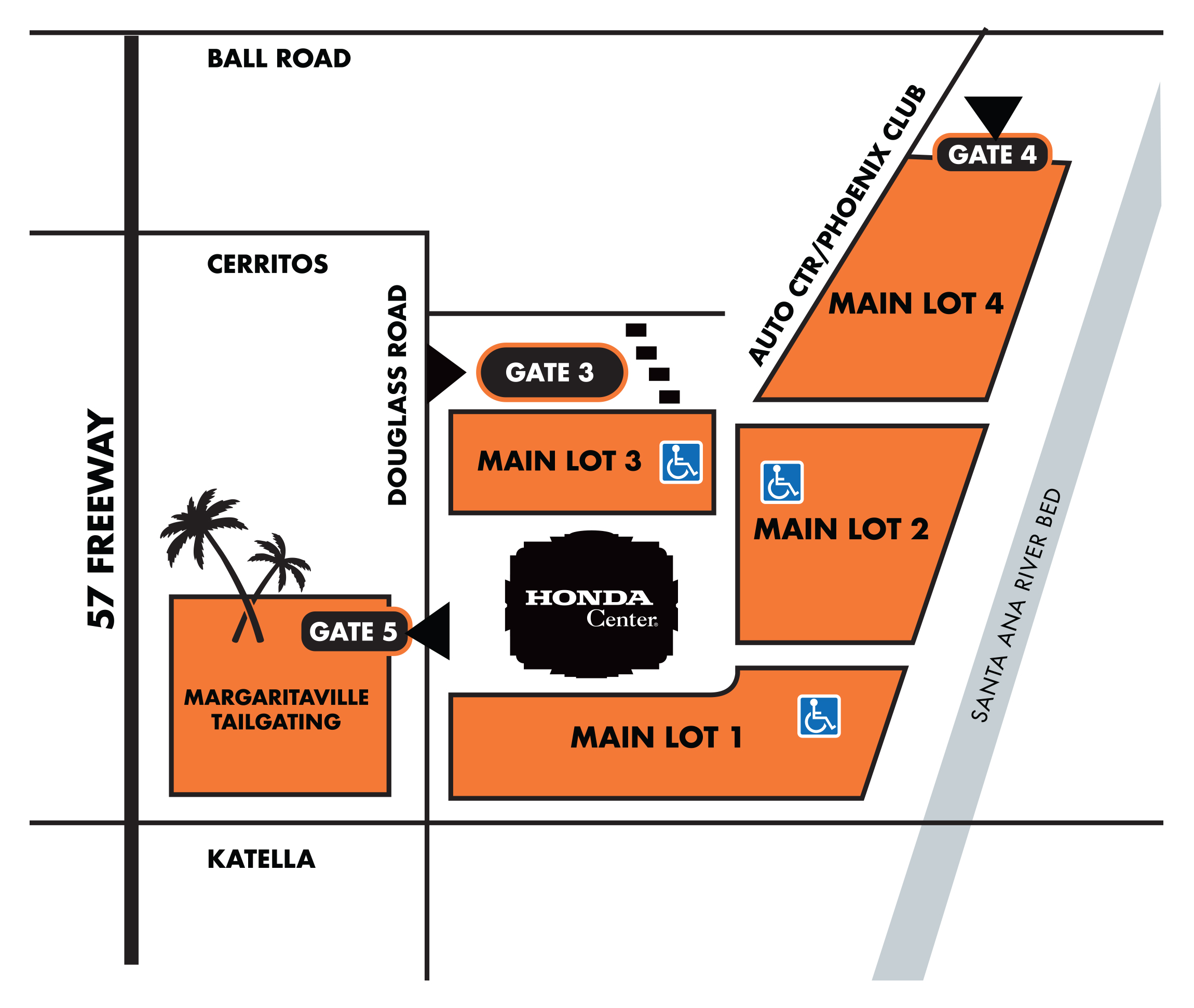 TAILGATING GUIDELINES
Honda Center encourages fans to arrive early and enjoy the company of their friends prior to Jimmy Buffett and the Coral Reefer Band concert. Appropriate conduct is everyone's individual responsibility; follow all state and local laws; treat fellow fans with civility and respect the property of others.
Honda Center will enforce a zero tolerance policy on any inappropriate behavior. At its discretion, Honda Center may terminate tailgate activities or take other appropriate action against individuals, groups, or organizations whose conduct is irresponsible, unreasonable or inconsistent with Honda Center, the City of Anaheim and/or State of California policies and regulations, ordinances or laws. Any patron, ticket holder, or parking pass holder will be equally held responsible for conduct prohibited by Honda Center tailgating guidelines. For the safety and enjoyment of all, please keep the following guidelines in mind while tailgating for Jimmy Buffett and the Coral Reefer Band.
Guests who have engaged in excessive consumption of alcohol or other substances may be subject to review by Anaheim Police Department and Honda Center Security.
TAILGATING CONDUCT
State and local laws regarding use and possession of alcohol will be enforced. Fans engaging in public indecency, disorderly conduct, lewd behavior and other violations of state laws are subject to disciplinary action by Anaheim Police Department.
BARBEQUES & TRASH
Small propane grills with shut-off valves are permitted.
No charcoal or wood grills or smokers.
Please pack out what you pack in.
Please do not leave trash in the parking lots. Additional trash containers are located throughout the parking lot for use.
NO SOLICITING
Honda Center does not permit unauthorized soliciting or collecting of contributions, vending, and distribution of fliers or other promotional or advertising materials.
HONDA CENTER HOURS & ACTIVITY
Margaritaville Tailgating Lot will open at 10:00AM for those with pre-purchased tailgating parking passes, along with those purchasing tailgating spaces day of show, subject to availability. The purchaser of advance lot passes must be present in the vehicle and show a valid ID. Parking passes are non-transferable.
All drive lanes must remain clear and open for other patrons to park their vehicles and access for emergency vehicles.
Vehicles and any activity must remain within the painted parking stall lines- do not infringe on the space of others or in a space that is unpaid.
There is no power access or other utility connections, services, or dumping stations available on-site. Please plan accordingly.
Selling of any items is prohibited including food, beverages, merchandise, games, etc.
Honda Center does not permit advertising, banners or signs, or distribution of promotional items on property. Guests may be asked to remove banners or signs.
PROHIBITED ITEMS
Pets/Animals (See ADA Accessibility page for more information.)
Axes
Charcoal Wood BBQs and Smokers
Fire Pits and Bon Fires
Boomerangs
Product Branded EZ-Ups
Drones/Remote Control Aircraft, Toys & Cars/Boats
Drugs/Drug Paraphernalia (Including Cannabis & Cannabis Products)
Dumbbells/Kettlebells/Weight Plates
Fireworks/Explosives/Open Flames/Tiki Torches
Flashlights Over 5.5″
Glass, Glass Solar Panels, Glass Mirrors, Glass Anything
Golf Carts, Dune Buggies, Off-Road Motorcycles, Motorized Scooters, Horses, Motorized Coolers, Hover Boards & Segways
Golf Clubs or Equipment
Machetes
Metal Stakes
Promotional Items
Sand
Scissors
Slip n' Slides
Pools
Spray Paint
Sporting Equipment (Bats, Clubs, Sticks, Metal, Wood)
Weapons of Any Kind (Guns, Ammo, Pocket Knives, Pepper Spray, Tasers, etc.)
Wrapped or Sponsored Vehicles (Rental company logos are excluded)
Toilets (including makeshift)

We thank you in advance for adhering to these tailgating guidelines. These guidelines help to ensure safety and provide for an effective means of crowd control. We ask that all patrons be respectful to one another while enjoying their tailgating experience.
*Honda Center reserves the right to amend or make changes to these policies at any time.
You Might Also Like