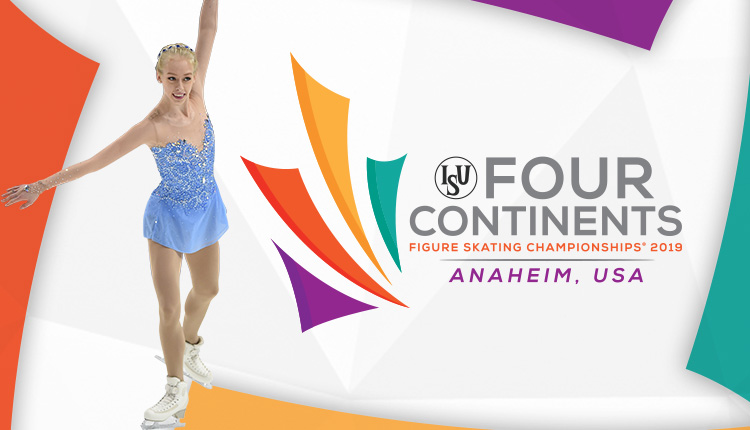 ISU Four Continents Figure Skating Championships
ISU Four Continents Figure Skating Championships
Single-session tickets are on sale now!
All-session ticket packages for the ISU Four Continents Figure Skating Championships 2019 are also available by clicking here. All-session ticket packages include access to all official practice sessions, all eight competition sessions and the Gala, which is an exhibition featuring the top skaters from the competition. The Championships are set for Feb. 7-10, 2019.

Held annually since 1999, the ISU (International Skating Union) Four Continents Figure Skating Championships feature skaters from the Americas, Asia, Africa and Oceania. Top athletes from the U.S., Canada, China and Japan will highlight the field. Skaters compete in singles, pairs and ice dancing. The U.S. delegation will be comprised of three athletes or teams in each discipline and will be named following the 2019 U.S. Figure Skating Championship, which are set to take place in Detroit, Michigan from Jan. 19-27, 2019.

Recent Four Continents titlists include China's Boyang Jin and Japan's Kaori Sakamoto. Jason Brown took the bronze medal in last year's men's competition. The United States took the top two spots in the 2018 pairs competition with Tarah Kayne and Danny O'Shea winning gold and Ashley Cain and Timothy LeDuc taking Bronze. Similarly, Kaitlin Hawayek and Jean-Luc Baker won the ice dance competition. Competitors for the 2019 competition will be announced in January 2019.

The event is returning to the United States for the first time since 2012, when it was held in Colorado Springs. It was also held in the United States in 2006 and 2007 and 2011. In 2018, the event was held in Taipei City, Chinese Taipei.

For more information, please visit 2019FourContinents.com.
Cameras and Recording Devices Policy For ISU Four Continents Figure Skating Championships 2019
No Video Recording of any type is allowed during any portion of the competition.
Personal photography is allowed from the designated spectator seating area so as to not interfere with nor disrupt any portion of the event; event participants and their performance; the intended use of public areas; and/or the viewing ability of others. All photos taken during the event must be for personal use only.

Unauthorized commercial use, sale, or third party distribution of photos and videos from the event is strictly prohibited without prior written consent from U.S. Figure Skating. Violators are subject to immediate removal from the event and potentially held liable for any damage, or perceived damage, associated with the violation.

Prohibited Equipment: No monopods, no tripods, no GoPros or similar devices, no selfie sticks, and no telephoto lens greater than 6 inches or 200 mm. For the safety of the athletes, no camera flash is allowed during the event.
Full Schedule
Thursday 2/7
Ladies Short Program – 12:30PM
Opening Ceremony & Men's Short Program – 5:30PM

Friday 2/8
Pairs Short Program – 11:45AM
Rhythm Dance – 3:00PM
Ladies Free Skate – 7:00PM

Saturday 2/9
Pairs Free Skating – 2:00PM
Men's Free Skating – 7:00PM

Sunday 2/10
Free Dance – 1:00PM
Exhibition Gala – 6:00PM
You Might Also Like