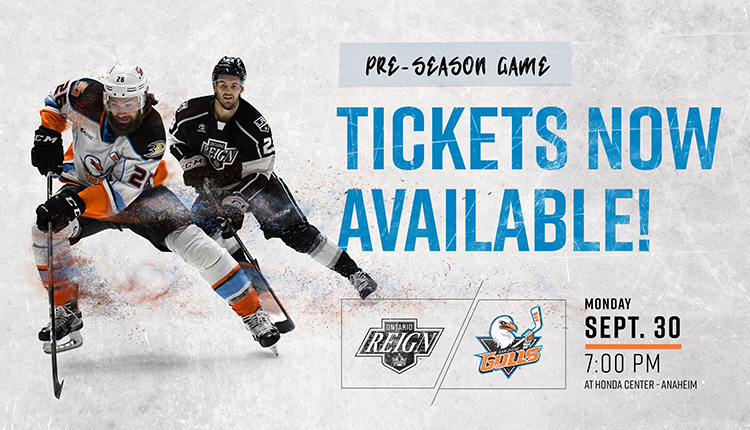 Gulls vs. Reign (Preseason)
Gulls vs. Reign (Preseason)
The Gulls (Ducks AHL affiliate) will host the Ontario Reign (Kings AHL affiliate) in a preseason contest on Monday, Sept. 30 at Honda Center (7 p.m.)
Take advantage of FREE admission and FREE parking! Gulls Season Ticket Holders and Ducks Orange Alliance Members had the ability to reserve tickets, up to 24 hours prior to the general public, on Monday, Sept. 16 at 10 a.m. The event is General Admission and seating for the game is first-come, first-served.
NOTE: Ducks Orange Alliance Members and Gulls Season Ticket Holders will have access to first entry at 5:30 p.m., with the rest of general admission commencing at 6 p.m.
Entrance will be only via the NHL mobile app, which is free for iPhone and Android. (You are not required to select the Ducks as your favorite team in the app, but you will have to select the Ducks via the pulldown at the top of the screen to access My Ducks Account).
All fans are eligible to reserve up to 8 digital tickets when creating a Ducks Ticketmaster account (if a current account doesn't exist).  
To reserve tickets:
1. Click here to reserve your tickets
2. Select Gulls vs. Reign game
3. Use promo code: GULLS to access tickets
4. Select quantity of tickets (max 8 per person)
5. Add to cart
6. Log in to or SIGN UP for "My Ducks Account" and submit order
To access your tickets:
1. Access your NHL Mobile App (mandatory for digital ticket access, Download for FREE in the app store)
2. Select Anaheim Ducks from the drop down menu
3. Scroll down to "My Ducks Account"
4. Login to your account, authorize access, access your FREE tickets.
For more information regarding this game or assistance downloading digital tickets, please call (877) WILD-WING.
To learn more about Ducks mobile ticketing, please click here.
You Might Also Like
Fri Sept. 11 - 7:45 PM
PBR
Sat Sept. 12 - 6:45 PM
PBR