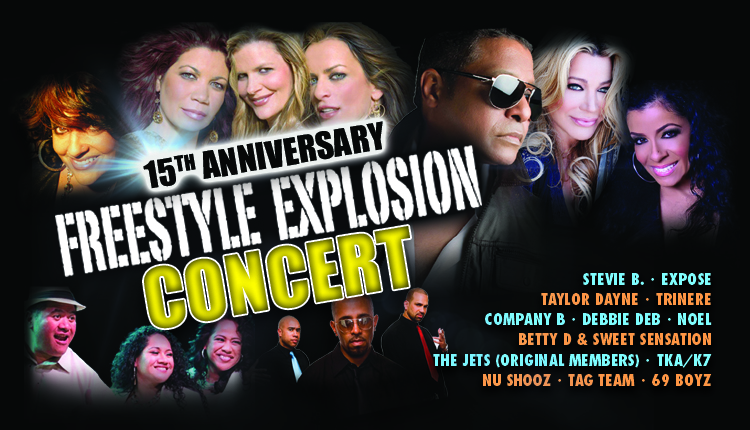 15th Anniversary Freestyle Explosion
15th Anniversary Freestyle Explosion
The biggest names in freestyle and old school music come together to perform their mega hits during the 15th Anniversary "Freestyle Explosion"  on Saturday, June 16 at Honda Center.
The line-up also includes 80's freestyle and old school legends: Taylor Dayne, Stevie B., Exposé, Debbie Deb, Trinere, Nu Shooz, Company B, TKA/K7, Noel, Sweet Sensation, 69 Boyz and Tag Team.  These artists influenced the 80's and 90's with their style of music, which remains widely popular, and in rotation with today's hits.
Taylor Dayne's hits include "Tell It To My Heart," "Love Will Lead You Back," "I'll Always Love You," and "Don't Rush Me" which have earned her the prestigious honor of receiving a Grammy Award Nomination.
Singer, songwriter and producer, Stevie B, was influential in the Latin freestyle music scene of the late 1980's is best known for his No. 1 ballad "Because I Love You" along with his mega hits: "Spring Love," "Party Your Body," and "Dreaming of Love."
American vocal group, Exposé, achieved much of their success in the late 80's, and early 90's when they became the first female group to have four Top Ten hits on the Billboard Hot 100 chart from their debut album, Exposure, including their No. 1 single "Seasons Change." Other favorites from Exposure include "Point of No Return," "Come Go With Me," and "Let Me Be The One."
| | |
| --- | --- |
| Debbie Deb | "Lookout Weekend," "When I Hear Music" |
| Trinere | "All Night," "They're Playing Our Song," "I'll Be All You'll Ever Need" |
| The Jets | "Crush On You," "Make It Real," "You Got It" |
| Nu Shooz | "I Can't Wait," "Point Of No Return" |
| Sweet Sensation | "Hooked On You," "Take It While It's Hot" |
| Company B | "Fascinated (By Your Love Boy)" |
| TKA/K7 | "One Way Love" |
| Noel | "Silent Morning" |
| 69 Boyz | "Tootsee Roll" |
| Tag Team | "Whoomp There It Is" |

*Lineup subject to change without notice
You Might Also Like