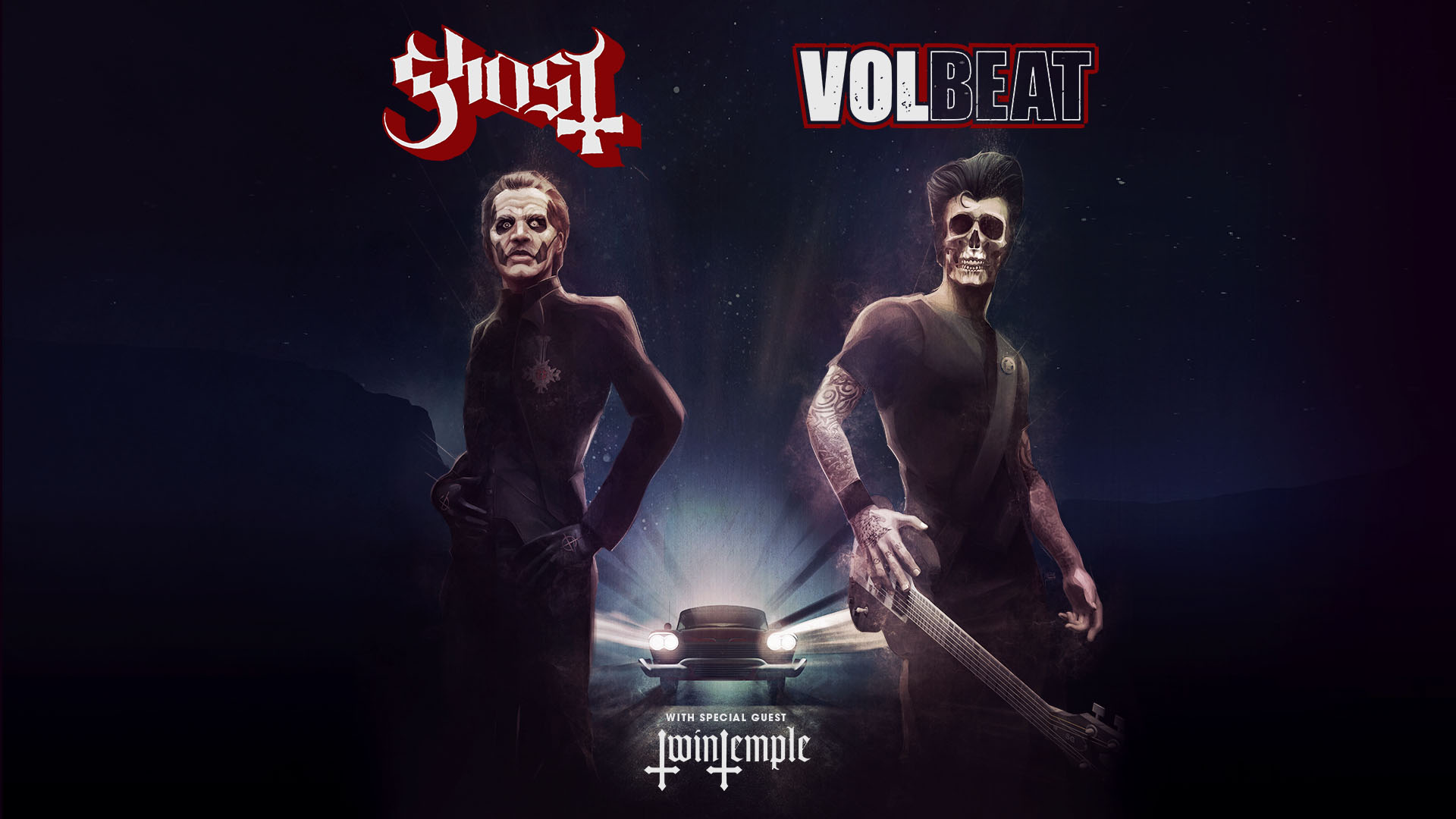 Ghost & Volbeat
Ghost & Volbeat
GRAMMY Award winning Swedish Rock band, Ghost, will coheadline with GRAMMY Award nominated band Volbeat at Honda Center with special guests Twin Temple.
The tour will require fans to provide either proof of a negative COVID-19 test result within 72 hours of each event OR proof of being fully vaccinated for entry.
KNOW BEFORE YOU GO
For the Ghost & Volbeat show, small clutches and wallets smaller than 5 in. x 9 in. x 1 in. are permitted through all entrances and are subject to manual inspection. Any purses/bags/clutches/wallets that are larger than 5 in. x 9 in. x 1 in. will not be permitted. Honda Center does not offer a bag check.  
Costumes are permitted. Chains and sharp objects such as spikes are not allowed on clothing including bracelets, purses, wallets, belts, necklaces, gloves, shoulder pads, hats, etc. Costume masks of any kind are prohibited.
GENERAL ADMISSION POLICY*
General admission ticket holders are not required to arrive early to obtain a numbered wristband. This policy is an option provided as courtesy to those who prefer to arrive early and wait for priority entry.
General Admission ticket holders are able to arrive at Honda Center to obtain sequentially numbered wristbands beginning at 1:00pm the day of show in Lot 2 (please see red star on map). Wristbands will be distributed until 3:00pm sharp.

Each guest must be in possession of a general admission ticket to obtain a wristband - only one wristband per guest will be distributed. Guests cannot reserve/pick-up wristbands for other guests. GA numbered wristbands are non-transferable. Loss, removal or tampering of the GA wristband will result in loss of place in the GA line.

A starting number will be randomly chosen at 3:15pm; this will be announced and displayed. No wristbands will be distributed after 3:00pm - no exceptions.

The guest with the wristband that matches the starting number drawn will be the first in line (i.e. if #'s 1-100 were issued and number 10 was drawn, the line would start with 10, then 11, 12, 13 through 100 then following with 1-9). When the starting number is announced, Honda Center staff will begin forming the entry line at the building's north entrance.
 
Once the numbered wristband line is formed, patrons are to remain in line.   

If a patron arrives after the wristbands have been distributed, those patrons will line-up in a secondary line that is first-come, first served at the sidewalk by the north entrance of Honda Center (please see blue star on map). This secondary line will not receive a numbered wristband and will enter after the numbered wristbanded group.

Regardless of arrival time, guests who have a GA ticket must enter through the building's north doors to obtain a floor access wristband.

The purpose of the random number distribution is to ensure that all fans have the same chance of being first in line, eliminating the need to camp out. This policy also helps to ensure customer safety and provide for an effective means of crowd control. We ask that all patrons be respectful to one another in line.

Please note that VIP ticket holders may receive priority entry at the tour's discretion.
Food and beverage items can only be consumed in the arena concourse.  Food and beverage items are not allowed onto the arena floor during GA floor shows.

*Honda Center and tour personnel reserve the right to amend or make changes to these policies at any time. 
Main entrance doors to the arena typically open 60-90 minutes prior to event start time.
You Might Also Like