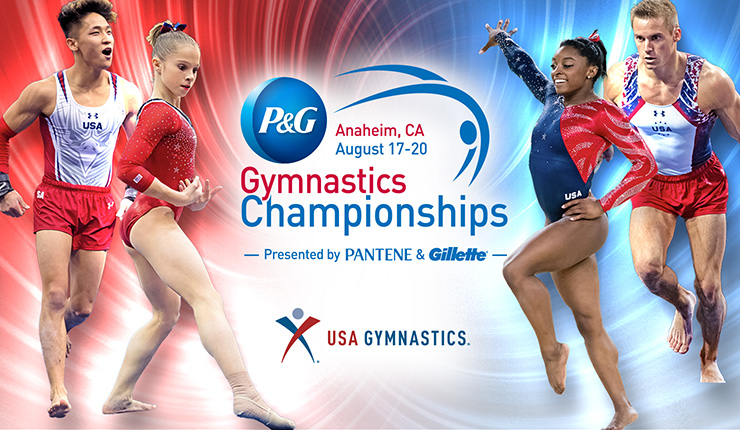 2017 P&G Gymnastics Championships
2017 P&G Gymnastics Championships
USA Gymnastics, Honda Center and Visit Anaheim announced that the 2017 P&G Gymnastics Championships, the national championships for men's and women's gymnastics, will be held in the city of Anaheim for the first time. The country's best gymnasts will compete in the four-day competition at Honda Center Aug. 17-20, 2017. Also, the USA Gymnastics National Congress and Trade Show will be held at the Anaheim Convention Center Aug. 16-19, 2017.

The P&G Championships determines the men's and women's U.S. champions and the U.S. National Team for the junior and senior elite levels. The field will feature the country's top gymnasts, and the championships also traditionally serves as part of the selection process for the U.S. Team for the World Championships.

Simone Biles of Houston, Texas/World Champions Centre, and Sam Mikulak of Newport Beach, Calif./Team Hilton (U.S. Olympic Training Center), won their fourth consecutive women's and men's U.S. all-around titles, respectively, at the 2016 P&G Championships. The roster of former U.S. all-around champions is a veritable who's who of gymnastics, including: women – Jordyn Wieber, Nastia Liukin, Shawn Johnson, Carly Patterson, Courtney Kupets, Shannon Miller, Dominique Dawes, Kim Zmeskal and Mary Lou Retton; and men – Paul Hamm, Blaine Wilson, John Roethlisberger, Mitch Gaylord, Peter Vidmar and Bart Conner.
The competition schedule for the four days is as follows (subject to change). 

• Thursday, August 17: Men's gymnastics — 1 p.m., juniors, and 7 p.m., seniors
• Friday, August 18: Women's gymnastics — 1 p.m., juniors, and 7:30 p.m., seniors
• Saturday, August 19: Men's gymnastics – 12 p.m., juniors, and 5 p.m., seniors
• Sunday, August 20: Women's gymnastics – 11 a.m., juniors, and 3:30 p.m., seniors
Single-session tickets are now available and range in price from $20 to $122 per ticket.

Tickets may be purchased at Ticketmaster.com, by phone at 800-745-3000, or at the Honda Center Box Office.
Helpful Event Information:

Parking

Parking is $20 per entry for general and $25 for preferred. Please note that re-entry is not permitted.
Prohibited Items

• Laptops, backpacks, briefcases, large bags (maximum size allowed 12" x12" x 12"), wrapped gifts, coolers, weapons, drums, laser pointers, or Hoverboards.
• Tablets are not allowed at concert events.
• Confetti, streamers, beach balls, glow sticks or balloons.
• No gang attire of any kind.
• No illegal drugs of any kind.
• Cowbells are allowed into the building for hockey games only.
• No outside food or beverages allowed into venue, including water bottles/containers (filled or empty).  Exceptions may be made for medical reasons or baby food.
• Strollers. The only exception to this policy is if the guest has a ticket to a suite.  In this case, the guest must take the stroller through the South/East, North/East, or South/West private entrance.  Upon entry, the stroller must be folded up and carried to the suite.
• Weapons – Guests, including law enforcement personnel not present in an official capacity, are prohibited from bringing weapons into the arena. Weapons include, but are not limited to: firearms, explosives, stun guns, handcuffs, brass knuckles, sticks, clubs, batons, martial arts instruments, pepper spray, tear gas, knives, etc.
• The distribution of promotional items, flyers, handbills and/or printed materials is not permitted without written permission of the Honda Center. In addition, vending, peddling or product sampling is not allowed.
• Please note: There is no check-in area for prohibited items.
• Clothing that has derogatory or obscene language that could be considered offensive to other guests.
Photo, Video And Signage Policy

• Audio-Visual Recording. No video cameras of any kind are allowed, and using cell phones to record video is also prohibited. No portion of the event may be recorded in any form, including audio, without prior written approval from USA Gymnastics.
• Live streaming apps. The use of live streaming apps (such as Periscope, Meerkat, etc.) is not allowed in the venue during USA Gymnastics events.
• Photography. All images taken during the event are for personal use only, and any commercial use, distribution or sale is prohibited. The use of professional equipment is strictly prohibited, including cameras with detachable lenses or lenses greater than 35MM, tripods and monopods. No flash photography or strobes of any kind.
• Signage/Banners. USA Gymnastics appreciates its fans' enthusiasm and support of its athletes. Fans are allowed to bring signs and banners that are supportive of the athletes and national team; however, signs or banners with any other type of message are not allowed. Any signs and/or banners must not be larger than 24″ x 36″ or block the view of other spectators when displayed.
• USA Gymnastics reserves the right to confiscate any video or photos taken in violation of this policy. There are no ticket refunds for violating policy. Any person(s) using or attempting to use any such equipment may, at the sole discretion of USA Gymnastics, be subject to immediate ejection from the venue and may be refused entry to other events sponsored by or affiliated with USA Gymnastics.
• USA Gymnastics reserves the right to film or record the performance for any purpose.
Fan Activities

The following is a quick overview of the fan activities available on the concourse on competition days.

• Hersheys. Visit the Hershey's booth outside Section 224 to have your photo taken with the Hershey's Kisses character and stop by on your way out for a sample of Hershey's Cookie Layer Crunch bar.
• AT&T. Fans can come by the AT&T booth to record a 360 degree video, show their spirit with an augmented reality face paint opportunity, and see all the ways that AT&T is empowering gymnasts to accomplish their goals.
• Merchandise. Fans can purchase everything gymnastics, including event-specific tees, Under Armour and GK leotards, and more, at merchandise booths on the concourse at Honda Center.
Following the final session of women's gymnastics on Sunday, Aug. 20, USA Gymnastics will recognize the 2016 U.S. Men's and Women's Olympic Gymnastics Team. The members of the 2016 U.S. Olympic Team are: women – Simone Biles of Spring, Texas, Gabby Douglas of Tarzana, Calif., Hernandez of Old Bridge, N.J., Madison Kocian of Dallas, and Aly Raisman of Needham, Mass., and replacement athletes Locklear, MyKayla Skinner of Gilbert, Ariz./Desert Light Gymnastics, and Smith; and men – Chris Brooks of Houston, Jake Dalton of Norman, Okla., Mikulak, Danell Leyva of Miami and Naddour, and replacement athletes Modi and Whittenburg. 2012 Olympian John Orozco of the Bronx, N.Y., who withdrew from the men's 2016 Olympic team due to injury, will also participate.
Autograph Sessions

Approximately 300 individuals will have the opportunity for an autograph during the allotted time for each opportunity. This section will be updated as more information is known. *Schedule and Olympians subject to change.
Thursday, Aug. 17
• Olympian Jake Dalton at the Inside Gymnastics booth from 6:15-7:00 p.m.

Friday, Aug. 18
• Olympic gold medalist Shannon Miller will be signing autographs from 6:30-7:15 p.m. at the Inside Gymnastics booth.
• Olympic gold medalist Carly Patterson will be signing autographs from 6:30-7:30 p.m. at the AT&T booth.

Saturday, Aug. 19
• Join KT Tape and 1996 Olympic gold medalist Kerri Strug who will sign autographs on the concourse Saturday, Aug. 19, at 4 p.m.

Sunday, Aug. 20
• 2016 Olympic gold medalist Laurie Hernandez will sign autographs at the AT&T booth prior to the start of Sunday's senior women's session beginning at 2:30 p.m.
You Might Also Like
Fri Aug. 16 - 7:00 PM
USA Basketball
Fri Sept. 6 - 7:45 PM
PBR: Unleash the Beast
Sat Sept. 7 - 6:45 PM
PBR: Unleash the Beast