Q&A with Honda Center President/CEO Tim Ryan - Part 2
Oct. 24, 2016
In the span of nearly 40 years in the arena management business, Tim Ryan has pretty much seen it all. He started in 1992 at what was then known as Anaheim Arena – later renamed the Arrowhead Pond and known for the past 10 years as Honda Center – as part of a team of just four people. Now he oversees more than 250 full-time and more than 2,000 part-time staff and has helped guide the arena into one of the world's top entertainment venues, one that remains on the cutting edge in an age when new arenas are seemingly sprouting up every week.
Ryan has also led major efforts to upgrade Honda Center, assuring it remains one of the world's top-of-the-line sports and entertainment venues. In September 2015, a new state-of-the-art scoreboard debuted, marking the largest and most impactful upgrade to the spectator experience in the history of a venue that has seen countless upgrades and fan enhancements over the last decade.
In the second of a two-part feature, Ryan talks about how technology has affected the operations of Honda Center and the live entertainment business as well as the impact of the ownership of Henry and Susan Samueli.
What is the role technology plays in the fan experience?
When I started in the mid-'70s, the technology was pretty much, "Do we have enough pay phones?" The world has changed, but I do think there is a fine line between embracing all technology and letting technology get in the way of the live experience. I think back to when arenas were contemplating in-seat playback with miniature screens or monitors. That hasn't taken off, though it may in the future, but it sort of took people's eyes off the action on the ice, stage or the court and put it on a screen next to their seat.
I think there are enhancements that take the experience to another level, such as our new high-def scoreboard, our new sound system that has perfect clarity where people can see perfectly and they can hear perfectly. The LED ribbon boards that really enhance the fan interaction during an event. Those types of things are fantastic. I always say, let's not do anything to get in the way of a fan and their favorite athlete or the fan and their favorite entertainer. If the technology is an enhancement and doesn't get in the way of that direct line, then I'm all for it. As we all know, fans bring technology with them to every event. They are constantly checking out of town scores, Snapchatting from a concert or texting friends. I do see fans looking to engage their own devices more and more at events. I think our Marketing team would agree that there is tremendous upside in this area. As I look back, it is amazing how fast technology has become part of our industry. We started with a part-time staff member in the '90s and we are now at a point where we have an entire IT Division headed by a very senior VP.
And in-arena Wi-Fi has become increasingly important as well, which Honda Center has addressed this year.
We're making a seven-figure investment in upgrading our Wi-Fi, and it was three years ago where we thought we were state-of-the-art. A year after that, we found out we were already behind the curve. When [Ducks Executive Vice President & General Manager] Bob Murray and I speak to the fans, we talk about everything, and one of the loudest ovations we've gotten is when I've talked about upgrading the Wi-Fi. A really sophisticated technological environment is almost the same expectation as what drinking fountains used to be. It's no longer looked at as an amenity. It's now looked at as an expectation. Connectivity opens so many doors. Whether it is fan interaction of providing the ability for a parent to know that everything is fine at home, the ability to know you are indeed connected provides a comfort level. For us, making this huge investment to take it to the next level is going to make a difference not only for the fans, but what entertainment we can deliver to them. So that's certainly one of the upgrades we're excited about, and I think the fans are going to see a huge difference once the project is finalized.
In addition to the new scoreboard and sound system, you have added StadiumVision screens throughout the arena. How has that enhanced the fan experience?
Before when you left your seat, you went to a concession stand or the restroom and you lost touch with what was happening inside the arena bowl. StadiumVision just allows people to have that continuity from when they leave their seats to when they return. They don't feel like they're missing anything before they get back to the action. So I'm a big fan of things like that, but I'm not a big fan if somebody comes up with an idea that detracts from the business we're in, the business of live sports and entertainment. We are always looking at new arenas that are opening to see if things are being put in place that we should consider. But for a facility like ours that is over 20 years old, to be able to say it's state-of-the-art is very rewarding. Our ownership certainly gives us the resources to be able to maintain that.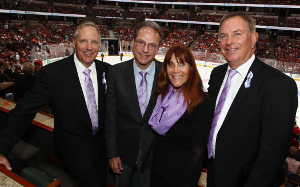 Speaking of that, what have Henry and Susan Samueli meant when it comes to the growth of the Ducks and Honda Center?
When Henry and Susan took over the management of the facility in 2003, they gave [Ducks CEO and Honda Center Chairman of the Board] Mike Schulman the autonomy to do it right. And Mike has given me the autonomy to run it properly. First and foremost, they are really connected to this facility. If I had to guess, I would say they are here no less than 75 times per year, whether it's every Ducks game they can make, taking a grandchild to the circus or every concert they can make. Their input has been invaluable over the years. This isn't just another property to them. It's a crown jewel for them. When they walk into the facility and see a building some might say looks only 5 to 7 years old, my hope is they take a tremendous amount of pride in that, like the rest of us do. Since they took over the Ducks in 2005, the fans have really embraced them as fellow Orange County residents, as philanthropists and as great team owners. It's so rewarding to work for such focused and caring people. There is a very solid connection between Henry and Susan and Mike Schulman that carries right in to my office. Decisions are made quickly and efficiently. Owning the Ducks is one of their loves, and they wear it on their sleeves. Like all of our fans, they hate it when we lose and love it when we win, and I believe they're more passionate now than ever.
Aside from the technology side, is there anything you can say has changed the most in the time you've worked in this industry?
One of the bigger changes – and it's the way of the world – is the focus on security, especially after 9/11. We want to make sure we have an extremely safe environment, but we don't want an environment that takes away from what people are here to do – and that's to have fun. So, one of the things that is top of mind for me is having a safe and secure environment. Fans have supported the changes we've made, whether that's walking through metal detectors, additional security we have in-house and all of the closed-circuit cameras we have in the facility. And of course there are the changes in food and beverage and merchandise offerings. I think the one thing that hasn't changed is that people are still passionate about their team, their favorite artist.
What has being in this business taught you?
I've learned a lot in almost 40 years. I've learned that we're in the business of providing an outlet for people. There are people who have different struggles in their lives, whether it's personal or professional. Our job is that when they walk in this door, we provide them an absolutely entertaining experience. That could be a fantastic hockey game, could be a basketball game, could be a great concert or a circus their kids are seeing for the very first time. Every time someone walks in the door, this could possibly be the greatest night of their life. I don't ever take that for granted, and I'm still as enthusiastic about it as I've ever been.
More press releases
Oct. 20, 2016

Sep. 29, 2016

Sep. 28, 2016

Sep. 22, 2016

Sep. 19, 2016